TM-1 Mic Adapter Kit
---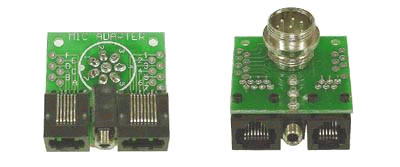 The TM-1 Mic Adapter Kit was created to simplify attaching the TigerTrak to a mobile radio for tracking applications. It provides a convenient way to connect the various mic lines without the need to cut or splice any existing wiring. The Mic Adapter is simply inserted in-line between the radio and the microphone. Inside the adapter there are a series of jumper terminals that allow you to bridge the appropriate mic lines over to the TM-1 connector.
The Mic Adapter Kit is compatible with all radios that use an RJ-45 or 8-pin round mic connector. All necessary materials (excluding a housing) are included with the kit. A soldering iron, solder, wire strippers and a multimeter are all that's required for assembly. Both the RJ-45 and RJ-11 connectors are crimped at the factory, so no special crimping tools are needed.
For more information on the Mic Adapter Kit, you can download the installation manual from our GPS Tracking Products Support Page.
---
Tigertronics - All Rights Reserved | BayPac, SignaLink, and TigerTrak are trademarks of Tigertronics
APRS is a trademark of Bob Bruninga | All other trademarks are the property of their respective owners