BP-2 Packet & BP-2M MultiMode Modems
---
LEGACY PRODUCT NOTICE: Our BayPac modem series (BP-1, BP-2, BP-2M and BP-96A) is no longer supported beyond the information found below and on other related pages of our website. This is due to the fact that these modems have not been compatible with any version of Windows released in the last ~20 years, and have been replaced by much more capable hardware (SignaLink USB).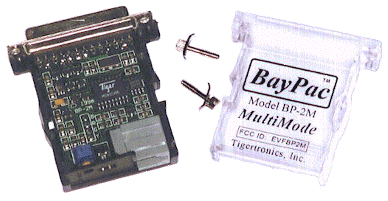 (shown with cover removed)
Introducing: The Latest Generation of BayPac Modems!
The Model BP-2M MultiMode Modem

- All the features of the BP-2 plus MultiMode capability using a wide range of shareware and commercial software. Now you can get your "feet wet" in SSTV, WEFAX, AMTOR, RTTY, CW, APRS, TCP/IP and a host of other modes at a price that won't "blow your socks off"! When you're not running packet, you can switch to one of the other modes by simply running our mode setting program (BPMODE.EXE). It's that simple. Just select whatever mode you want to try next. You can declare the new mode to be the new "default" mode if you like and the BP-2M will "remember" it. Or, you can select the new mode for temporary operation. The next time you fire up the BayPac it reverts back to whatever "default" mode you selected, so it's always ready to jump right back into your favorite program. Unbelievable power and flexibility at an unheard of low price. Now you can explore the entire RF Spectrum! Unbelievably priced at just $69.95.
Note:

Both models are supplied with the latest BayCom packet software to get you up and running quickly. A comprehensive list of additional shareware and commercial software is included. This list and many of the programs mentioned are also available for download from our BayPac Software page.

---
Additional Information:
---
Tigertronics - All Rights Reserved | BayPac, SignaLink, and TigerTrak are trademarks of Tigertronics
APRS is a trademark of Bob Bruninga | All other trademarks are the property of their respective owners